Futures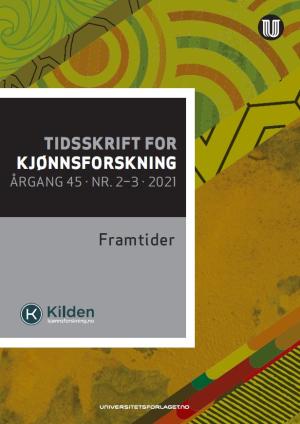 This years second issue is a double issue about "Futures". Read about intersectional stories about the future, science fiction through the lens of feminist theory and gender norms in social media marketing. You can also read about biotechnology, assisted reproduction and donor conception, and the issue of population politics in Turkey.
DOI: 10.18261/issn.1891-1781
Intersectional Future Stories: Who Is Allowed to Dream of the Future?
By Sonia Muñoz Llort, Maria Puenchir, Inga Márjá Utsi, and Sara E. S. Orning
Stories about the future are rooted in epistemological, structural and institutional frameworks. Those frameworks define the boundaries for how we envision a future and who has the opportunity to do so. This roundtable analyses the framework through a dialogical approach from an intersectional perspective, for an in-depth take on the conditions of stories about the future in western societies.
Keywords: Indigenous people, disability, counter narratives, knowledge production, colonization, intersectionality, collective creation, institutional discrimination, neoliberalism, decolonization
---
Visions of Augmented Reality in Popular Culture: Power and (Un)readable Identities When the World Becomes a Screen
By Marianne Gunderson
Augmented reality, where digital objects are overlaid and combined with the ordinary visual surface, is a technology under rapid development, which has long been a part of visions of the digital future. In this article, I examine how gaze and power are coded into three pop-cultural visions of augmented reality. By analyzing representations of augmented reality in science fiction through the lens of feminist theory on performativity and intelligibility, visibility and race, gendered gaze, and algorithmic normativity, this paper provides a critical understanding of augmented reality as a visual technology, and how it might change or reinforce possible norms and power relations. In these futures where the screen no longer has any boundaries, both cooperative and reluctant bodies are inscribed with gendered and racialized digital markers. Reading visions of augmented reality through feminist theory, I argue that augmented reality technologies enter into assemblages of people, discourses, and technologies, where none of the actors necessarily has an overview. In these assemblages, augmented reality takes on a performative and norm-bearing role, by forming a grid of intelligibility that codifies identities, structures hierarchical relationships, and scripts social interactions.
Keywords: Augmented reality, science fiction, normativity, performativity, gaze, power, technology
---
"It's Easy To See What Gender the Ad Is Meant for. There's No In-between": A Study of Adolescents' Interpretation of Gender in Social Media Marketing
By Helene Fiane Teigen and Kamilla Knutsen Steinnes
This article examines how adolescents interpret gender in social media marketing. The article is based on focus group interviews with 54 young people between 15–22 years about their digital everyday life. The analysis draws upon Judith Butler's theory on gender performativity and shows that young people interpret representations of gender in marketing on social media as an expression of narrow ideals with little variation in gendered expressions, while at the same time being critical of these representations. The critical distance suggests that the adolescents understand gendered representations in marketing as performative, rather than determined by nature. However, the adolescents' critical attitudes towards gendered norms combined with their perception of also being influenced by them, indicate a negotiation where they are both shaped by the normative order of gender and sexuality that Butler terms the heterosexual matrix while also being able to criticise the expressions it promotes. We suggest that social media as a marketing arena, advertising as a genre, the adolescents' context of interpretation during the study, their interpretation potential, as well as their regular media usage, contribute to this negotiation.
Keywords: Gender, performativity, young people, identity, social media, digital marketing
---
Commentary article
Biotechnological Futures
Reflections from a Gender Studies Perspective on the Changes in the Norwegian Biotechnology Act
By Ingvill Stuvøy, Maria Kirpichenko, Guro Korsnes Kristensen, Merete Lie, and Sofia Moratti
In this commentary to the recent amendments of the Norwegian Biotechnology Act we discuss the changes related to assisted reproduction. Our aim is to invite gender researchers to reflect on these changes, given the significance of reproduction for the cultural perceptions and social organization of gender. The Norwegian Biotechnology Act has since its inception been restrictive relative to the laws in neighboring countries. This changed in May 2020 when the Parliament, after years of discussion, voted in favor of e.g., egg donation, fertility treatment for single women, egg freezing without medical reasons, and access to early ultrasound examination and NIPT test (non-invasive pre-natal test) for all pregnant women. A prominent argument in the parliamentary debate was the call for Norway to be a modern society and in the frontline of technological developments with respect to biotechnology. Another line of argument concerned women's individual rights, emphasizing that once new technologies are available, all women should have access to them. We identify a shift towards a more optimistic and less cautious approach to biotechnologies and, moreover, from governmental to individual responsibility. We end the commentary with questions regarding the gendered implications of such a shift.
Keywords: Biotechnology, reproductive rights, biotechnology act, gender equality, family, assisted reproduction, gender
---
Discursive Construction of Population Politics:Parliamentary Debates on Declining Fertility Rates in Turkey
By Hande Eslen-Ziya
In assessing how politicians generate population politics through parliamentary debates, I am interested in the discursive construction of such debates. Political debates are important contexts, influencing, and also being influenced by larger cultural processes drawing the boundaries of citizenship. This article carries out comparative and multi-method analyses of normative, religious and communicative dimensions of the population politics unfolding in the Turkish parliament. Through the analysis of parliamentary debates between 2008–2016 on the issue of population politics, I study how the ruling Justice and Development Party (AKP) addresses the population in order to stop the decline of fertility rates and promote higher fertility rates. I argue that the politicians of AKP affect public reasoning by circulating discourses such as slogans or public declarations while simultaneously postponing agendas for significant policy change. I further show that the oppositional parties' debates in the parliament likewise enable political ideas to be disseminated and political discourses to be part of the public sentiments.
Keywords: Population politics, anti-gender, right-wing populism, discursive governance
Read the full article in English here.
---
Donor-Conceived Persons' Pasts, Presents, and Futures: A Field Study from California
By Martin Eggen Mogseth
Based on fieldwork in California in 2018, this article explores how donor-conceived persons' knowledge of their own conception produces reconsiderations of the past, present, and future in a continuous dynamic. Through conversations with 19 Californian donor-conceived persons, I consider how knowledge of donor conception alters and is altered by temporalities and facilitates arguments for policy change in the US American fertility industry. The article is especially inspired by Walter Benjamin's concept of the «meeting» between past and present and contextualizes his ideas in a highly topical area of tension between individual and state. The article thus invites understandings of how new reproductive technologies produce and transform temporalities that may alter the future of these very technologies.
Keywords: Temporality, genetics, knowledge, time, identity, family, assisted reproductive technologies, donor conception