Open issue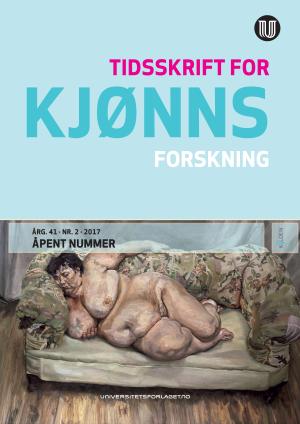 This second issue of the journal in 2017 brings together three articles that contribute in different ways to new humanistic perspectives on the body.
Articles
It's Not Over Until the Fat Lady Loses Weight
by Camilla Bruun Eriksen
This article analyses popular narratives and visual representations of fat bodies found in the Danish TV-show Min krop til skræk og advarsel (2014), in order to show how notions of fatness intersect with normative health and beauty ideals and create imaginaries of happiness, heterosexual desire and the promise of a better future. Using affect and disability theory, I suggest that narratives are performative, identity-creating processes and powerful constructions – but also that narratives about health and happiness are not necessarily available to all. Furthermore, I examine how the use of confessions (in a Foucauldian sense) helps shape highly affective narratives about fat embodiment – making the fat body a sight of sickness, loneliness and misfortune – while simultaneously creating the slim body as a non-negotiable body ideal. Lastly, I suggest weight loss as a temporal beacon on the horizon, guiding and pushing the fat body as well as the narrative about it forward in time and in the direction of a «happy future».
Keywords: fat, queer reading, feminist killjoy, queer futurism, body, health, freak show, gender, normativity, body norms, media, narrative
Sexual Consent and Narrative Reality in Kinky Erotic Fiction
by Erika Kvistad
This paper sketches a possible framework for feminist interpretations of kinky erotic fiction, arguing that erotic fiction that depicts sexual power dynamics presents a difficulty for our conceptions of both narrative and consent because it uses narrative reality in a distinctly complex way. Taking Sam Taylor-Johnson's film adaptation of Fifty Shades of Grey (2015) and Greta Christina's short story «The Shame Photos» (2013) as sample texts, this paper explores the different levels of narrative reality at work in kinky erotic fiction – fantasy, realism, and normativity – and the ethical and interpretive challenges that can occur when these levels blur. It argues that sexual negotiation occurs not only between characters in the text, but between context, text and reader, as we use the text's authorial framing and cultural presentation to determine how to engage with its sexual content.
Keywords: sexual consent, consent negotiation, feminist theory, narrative theory, erotic fiction, BDSM, kink
The Sociality of Pain. A Literature Review
by Maria Mortensen
In this article, I provide a literature review of a selection of research on pain conducted within the humanities and cultural studies. I take my point of departure in works of researchers such as Sara Ahmed (2014), Joanna Bourke (2014), Rob Boddice (2014) and Veena Das (1997), who all discuss pain in terms of the phenomenon's social, relational and transpersonal perspectives. Using the works of Judith Butler (2010) and Dorthe Effersøe Gannik (2005), I argue that pain is not an instinctive sensation, but a relational doing that takes form through the body and thereby creates the body as a distinctive phenomenon. I then position this notion of the body in pain within a political perspective in order to show how pain has been and is a key figure in the marginalization of different groups of people. From this point, I conclude that pain, and pain's sociality, not only creates the body capable of feeling pain, but indeed also marginalizes the body which is seen as not capable of suffering. With this, pain becomes a key political point from which basic understandings of what is considered human and non-human/less human emanates from.
Keywords: pain, sociality, body, «the other», politics, performativity, Judith Butler, Sara Ahmed