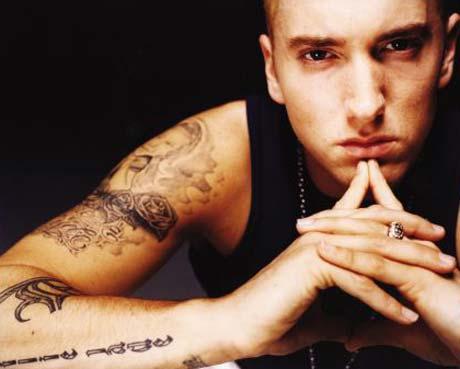 'The way you shake it. I can't believe it. I have never seen an ass like that.' It's Eminem singing, staring lustfully at a flock of beautiful, hip-gyrating dancers dressed in short skirts, filmed from below and accompanied by a melancholic Spanish-influenced riff.
Eminem is trying to tell us who he is through the exotic, sexy dancing objects and his own patronizing attitude, or rather, he is telling us who he is not. He is no object, but the acting subject, he is attractive and cool and not least – a real man.
– Eminem exaggerates his hyper-masculinity until the image becomes ironic; a parody. At the same time, the expressed homophobia and misogyny depicts him as a specific type of man, says Marita Buanes, who for her master thesis has analysed music videos from various musical genres, focusing on descriptions of gender, sexuality, class and race. In Eminem's video 'Ass like that' (2004) she finds all aspects.
– Eminem's aggressive hyper-masculinity and homophobia can be seen as a way to compensate for the fact that he – unlike most rappers – is white. He plays on his own background and rough childhood to a great extent to show that he is no white prep boy. As the son of an alcoholic, single mother who grew up in a mobile home, he is the underdog all right, no matter how white he is, says Buanes, recently nominated for the Centre for Gender Research's award for outstanding contribution to gender research, for her analysis of music videos.
Closely interwoven
Eminem illustrates extremely well one of Buanes' most central findings, the scientist goes on.
– Gender, sexuality, class and race are closely interwoven when the artists are staging themselves. Black masculinity is different from white masculinity, lesbian femininity is not the same as heterosexual femininity, a black person from the working class is different from a black person from the middle class, she explains. 1980's star, Whitney Houston, who also figures among Buanes's examples, is an example of the latter.
– Whitney Houston was often criticised for not being black enough, not only because she had a large, white audience, but also because she had had a protected, privileged childhood, growing up in a middle class family. The logic seems to be that in order to sing in a 'black' way, one has to have had a somewhat rough childhood, Buanes continues.
Female pimp
Being black is not solely about colour, but also about class, in the same way as biology is not the only gender-determining factor.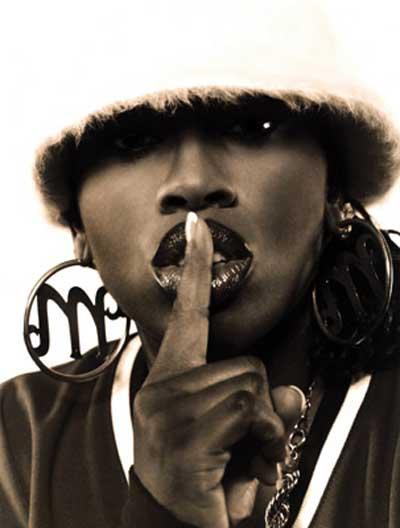 – The female rap artist Missy Elliot, for example, totally rejects the role women traditionally get within hip hop culture – as props for men, on the same level as gold chains, cars and expensive sneakers. Missy Elliot chooses to look like one of the boys: big-mouthed, far heavier than the average hip hop babe and dressed in men's hip hop fashion rather than miniskirts, and she manages to stand apart.
As one of the very few female artists in hip hop she also writes and produces her own music. In the video 'Work it' (2001) there are frequent images of Missy Elliot in front of the mixing board, in full control of both technology and music. In this video the mixing board becomes a phallic symbol, according to Buanes.
– By showing the fans that she masters the technology – which is an extremely male dominated territory in the music industry – Missy appropriates masculinity. She obtains respect by entering the business on men's premises and proving that she is equally capable. This is how Missy Elliot challenges the limitations for gender within the hip hop culture.
– But isn't the song about the importance of dressing up and looking attractive for one's man? In addition, Missy is surrounded by lovely, dancing females?
 – That is true. Instead of battling it out with gender stereotypes, she takes on a role as 'butch' or 'female pimp'. She herself does not dress up, but uses the beautiful, styled-up women, which I perceive as being parodic, because in many ways she ridicules the macho, male rap artists in assuming their role and playing it out as a masculine woman.
Independent sexpots
Not unlike Missy Elliot, the girl group Destiny's Child – with Beyoncé Knowles as its indisputable leader – tries to portray itself as a group of modern, independent and strong women. In the video 'Survivor' (2001) the girls are stranded on a remote island, where they survive, without the help of any man. During their struggle for survival they look unusually attractive in minuscule leather costumes revealing perfect, young bodies, and with perfectly styled hair. The bodies and body language are overtly aimed at the male eye, and the photographic angle leaves no doubt that the camera is controlled by a man.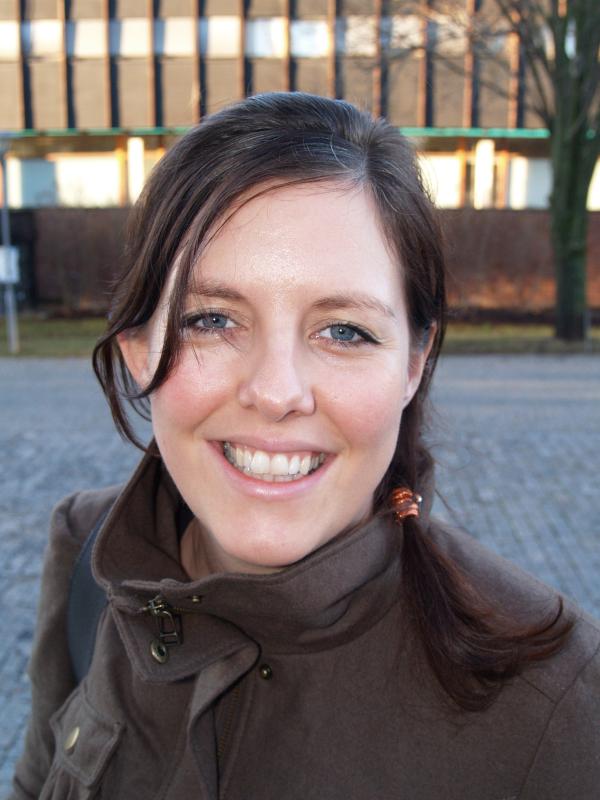 – Implicit in the message is a schizophrenia – which has also been pointed out in Britney Spears' videos. These women claim that they can manage without men, but nevertheless, they crave men's attention and portray themselves with an almost exaggerated femininity, says Buanes, who holds that the 'sexy, but independent' image is a legacy from Madonna.
– Madonna, however, does this with far more credibility. Where Destiny's Child is perceived as products of the business – manufactured and designed by men – Madonna has excelled by taking complete control of her own music and career.
– Does this tell us something about the limits of female self-assertion?
– Yes, I think so. As long as one fulfils the requirements for feminine behaviour and looks, asserting one's independence and strength is not quite so provoking. This may explain why the 'girl power' message apparently appeals to both men and women, Buanes explains.
'Clit rock'
In Buanes' material there is another black woman fighting the stereotypes to a much greater extent: Skin, vocalist in the rock band Skunk Anansie.
– In contrast to many other, female vocalists in rock bands with mainly male members, Skin is not a decorative eye-catcher, designed for the eyes of men. She does play on sex, but not in the usual way. Instead of gyrating her hips, she bangs, and she isn't afraid to have her mouth wide open when she sings. She is quite simply not very feminine, says Buanes.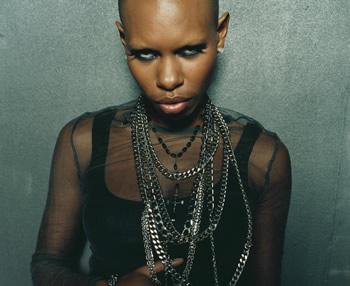 In the video 'Charlie Big Potato' (1999) Skin has a wild, almost savage image, playing with the stereotype of black women as primitive and exotic, a conception which has fascinated the European audience since Josephine Baker performed in her banana costume. However, Buanes believes that many will see this play with 'the primitive' as more repulsive than fascinating.
– We are so used to seeing black, female artists such as Whitney Houston and Beyoncé Knowles that we don't reflect upon the whitification being carried out through hair style, make-up and style of clothes. A black woman expressing herself like Skin will probably provoke people, Buanes explains. The fact that Skin is an out-of-the-closet lesbian places her even more firmly outside the stereotype of black women.
When Skunk Anansie's first album was launched, all the record shops placed it in the R&B section. It was assumed that a black, female singer makes this kind of music. Skin herself has characterised her music as a blend of heavy metal and 'black feminist rage', or 'clit rock', as a reaction to the male chauvinist rock – 'cock rock'.
… and cock rock
Also the cock rock genre, represented by the 1990's band Guns N' Roses' 'November Rain' (1991) is scrutinized in Buanes' thesis. In this video the macho vocalist Axl Rose shares his happiness and sorrow when he first marries the sexy and beautiful dream woman and the bride subsequently dies. Contrary to Eminem 15 years later, there is no irony in Guns N' Roses' depiction of their own hyper-masculinity, says Buanes.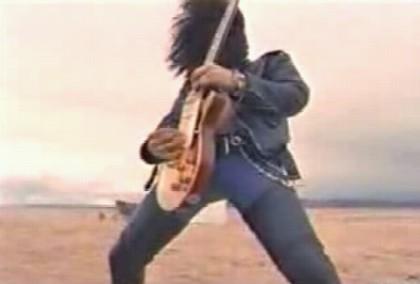 – This video is so full of gender clichés that it is almost ludicrous, Buanes continues. – Prejudices of macho rockers are hurdled towards you and confirmed within ten seconds. When the rocker guys, clad in open shirts, are in focus, they are accompanied by rough guitar riffs, but when the camera is directed at the glorified dream woman, beautiful, passive and feminine, we hear the brittle tones of flutes, the soft, three-voiced humming of the female back-up singers, or the melodic tinkling of stringed instruments. She is ethereal, a saviour redeeming Axl's masculinity. Even as a corpse she is beautiful.
– The guitarist Slash's ostensive 'guitar masturbation' – where the guitar becomes a blatant phallic symbol – renders the same feeling of an exaggerated macho image with which this type of music is associated, Buanes adds.
– Would the band have reached the same popularity today, with this image?
– I doubt it, not by taking themselves so seriously. The staging of our times is rarely so apparent and parodic without being ironic, Buanes says.
Masculinity in transition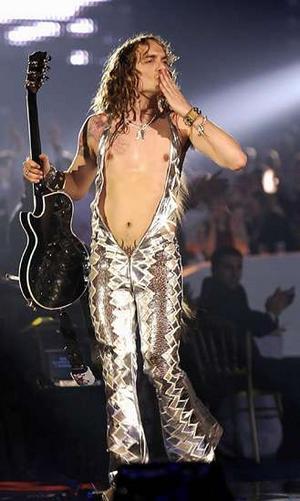 As an example of ironic play with the macho clichés of rock, Buanes has used 'I Believe in a Thing Called Love' (2003) by The Darkness.
– We see front man Justin Hawkins in a well known pose, standing with his shirt open, guitar in hand, in front of a massive wall of amplifiers, as a parody of Slash's 'guitar masturbation' and also of technological equipment as a brand of masculinity.
– The Darkness also flirts with homosexual aesthetics, apparently not afraid to be branded as homosexuals, something quite unique in a homophobic industry. I see The Darkness as a positive sign that things are going the right way, even in popular music, Buanes says. She believes that overstepping the boundaries in this way can have great significance.
– Popular music is a huge and important arena for negotiations with the identity categories I have looked into. Although the medium of music videos probably has lost some of the explosive impact it had at first, there is no doubt that people, especially young people, get a lot of inspiration and impulses from this arena.
Translated by Ragnhild Ruud
Master thesis
Buanes, Marita: 'It makes no difference if you're black or white, if you're a boy or a girl.' An investigation into gender, sexuality, race and social class in the music video. Department of Musicology, University of Oslo, 2007.
The master's degree thesis was one of ten nominated for the Centre for Gender Research's award for outstanding contribution to gender research.